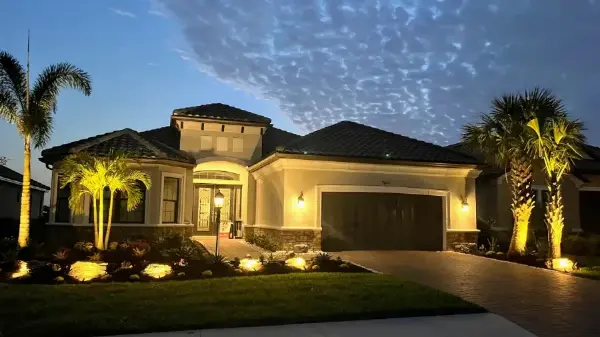 Landscape lighting brings landscaping to life when the sun goes down. There are many benefits to landscape lighting. Lighting highlights your Florida home's beautiful aesthetic feature. Lighting adds an extra level of safety and security. Paradise Palms lighting options are energy efficient. Landscape lighting illuminates your walkways to allow visitors a safe path as well as to deter unwanted guests.
Landscape Lighting is a unique way to bring ambience, style and security to your property. Paradise Palms Lakewood Ranch can help you design the right amount of landscape lighting to illuminate your property and home. Paradise Palms Lakewood Ranch recommends LED lights, now available in many colors. LED landscape lighting is safer since it radiates less heat. LED landscaping is environmentally friendly.
Our professional lighting designers understand how to Layer lights, use path lights, sconces, and well lights. Paradise Palms landscape lighting experts also understand which LED color tones provide the best landscape lighting.